Summer Night Korean Skincare Routine Must-Haves
During my trip to Seoul, South Korea, I picked up a truck load (slight exaggeration) of Korean beauty and skincare products because
a) I was traveling with k beauty connoisseur Jen and she knew all the best brands and products to try
b) Korean skincare and makeup products are at the forefront of the beauty industry; whatever is happening there and in the Asian market eventually trickles to the U.S. so I wanted to get my hands on whatever possible
and c) it's at a much lower cost since I'm purchasing it in the country that the product is manufactured (no inflated prices due to import taxes, etc). Although more and more Korean brands and products are becoming readily available here therefore allowing the cost to be more comparable through big retailers such as Urban Outfitters, Sephora and Ulta as well as companies such as Peach & Lily, Soko Glam and Sleekhair.
Along with Jen's recommendations (and I know sometimes she follows a 12-step skincare regimen), I use Peach & Lily's The Korean Skin Care Routine as a guideline; and after months of using different products, here are some of my faves that have become my current nightly skincare routine.
STEP 1 - Banila Co. Clean It Zero
[OIL-BASED TO remove makeup, DIRT + OTHER impurities]
Jen highly advised that this cleanser was great for removing makeup because it's gentle and efficient at clearing away a bulk of makeup and other impurities off of the skin. Upon opening the jar, there's a plastic lid to seal the product and a mini spatula on top to scoop the product out. I was surprised to see the cleanser in sherbet form (balm) which looks like coconut oil before you melt it with your hands. A little bit goes a long way, and I use about two scoops to cleanse the makeup off my face. After scooping, I place the cleanser onto my fingers and massage the product in circular motions onto my face including the eye area (with eyes closed but still have to be careful when rubbing on and around the eyes), then wash off with warm water. The cleanser contains raspberry leaf extracts which is known to contain antioxidants and protect, nourish and tone skin; as well as Papaya extract, a natural chemical exfoliant to help clear the top layer of dead skin. Get yours here.
INGREDIENTS
Mineral Oil, Cetyl Ethylhexanoate, PEG-20 Glyceryl Triisostearate, PEG-10 Isostearate, Polyethylene, Butylene Glycol, Water, Rubus Suavissimus (Raspberry) Leaf Extract, Bambusa Arundinacea Stem Extract, Aspalathus Linearis Leaf Extract, Viscum Album (Mistletoe) Leaf Extract, Angelica Polymorpha Sinesis Root Extract, Carica Papaya (Papaya) Fruit Extract, Malpighia Glabra (Acerola) Fruit Extract, Epilobium Angustifolium Leaf Extract, BHT, Butylparaben, CI 16255, CI 15985, Fragrance
STEP 2 - Shingmulmara Perfect Rice Bran Cleansing Water
[Remove remaining residue]
Because residue can still be on the skin after using the oil-based cleanser, I follow with a water-based cleanser. I particularly like this one touch pump dispenser as it helps to dispense a proportionate amount of cleanser onto the cotton pads which I usually use 1-3 cotton pads with the cleanser on it to further cleanse my face. Rice Bran has a variety of benefits including being packed with vitamins B+ E, amino acids (to assist in producing more collagen and elasticity), hydrochloric acid (to secure moisture in the skin) and therefore is known for being hydrating, brightening and protecting for the skin. Get this similar product.
INGREDIENTS
Purified water, dipropylene glycol, phage-6 caprylic / capric glyceride, rice bran, macadamia seed oil, olive oil, grape seed oil, jojoba seed oil, flaxseed extract, glycerin, decyl glucoside, 26 hydrogenated castor oil, phypho-26-butes-26, sodium citrate, citric acid, sucrose palmitate, hydrogenated lecithin, di Sodium dithiophosphate, phenoxyethanol, fragrance
STEP 3 - The Face Shop Chia Seed Hydrating Toner
[Hydrate + Tone]
This is another product that Jen regularly uses and I was in need of a new toner; chia seed generally retains water so the GMO-free chia seed extract in this toner absorbs up to 10 times its own weight in moisture, naturally moisturizing the skin. Although you may hear or read that toner can be used to further remove residue on the skin and therefore should be applied in a swiping motion on the face; since I use a cleansing water beforehand, I can further utilize toner by actually letting it soak into my skin. I typically will dispense the toner onto a cotton pad and press it against my skin until I've covered my entire face. For longer-laster moisture, I can soak cotton pads in the toner and place all over my face for 30 seconds. I really like the scent of this toner and it always leaves my skin feeling very refreshed. Get yours here.
INGREDIENTS
salvia hispanica seed extract, dipropylene glycol, 1,2-hexanediol, panthenol, glycerin, betaine, diethoxyethyl succinate, bis-peg-18 methyl ether dimethyl silane, citrus paradisi (grapefruit) fruit extract, ppg-26-buteth-26, peg-40 hydrogenated castor oil, xanthan gum, sodium hyaluronate, parfum/fragrance, algin, sodium citrate, water/eau, citric acid, disodium edta, anthemis nobilis flower extract
STEP 4 - All Mask Story Gold Hydro Gel Eye Patch + Tony Moly Kiss Kiss Lip Scrub
[Tighten + Brighten Under eyes/ Exfoliate Lips]
Stopping into the All Mask Story was instant everything mask heaven, there was a mask for every need: face, lips, undereye, neck, feet, etc. I had been looking for undereye gel patches and the store was running a promo of 2 for the price of one, so I picked up their gold hydro gel patch. These patches are great, they come in a jar container with 60 pieces (should be 30 pairs) including a mini spatula to peel out each patch. Other than eye cream or any other under eye treatment, I have to say that these patches have been effective in brightening and tightening the skin. I just place one patch under each eye and at first they feel slippery with the serum so sometimes I adjust accordingly until they are in the right place on my face, then I keep each patch on (20-30 minutes) until I feel that all the serum has soaked onto my skin (you can feel that the patch isn't as soaked with serum anymore, it's not dried out but they just peel right off without wetness). I wasn't able to find the regular gold patches for purchase online, but did find their black pearl and gold hydro gel patch which should be comparable, get yours here.
EYE PATCH INGREDIENTS
Butanol, glycerin, carrageenan, butylene glycol, dipropylene glycol, carboplatin gum, phenoxyethanol, xanthan gum, pichy-60 hydrogeneate castor oil, allantoin, niacinamide, methylparaben, Fructose, Calcium Lactate, Titanium Dioxide, Aloe Vera Leaf Powder, Hydrolyzed Collagen, Red Iron Oxide, Pomegranate Extract, Fig Extract, Lactic Acid Extract, Fructose, Fructose, Tocopheryl Acetate, Dipotassium Glycyrrhizaeate, Adenosine, Audi extract, bank extract, sodium hyaluronate, tin oxide, gold (0.01 ppm)
While I have the eye patch on, I will sometimes do a lip scrub so I can treat my lips in the process. Tony Moly has their lip scrub packaged in a cute pair of lips, and their lip range also includes a few essence balms. The scrub itself isn't a traditional scrub with a sticky sugary formulation, this one has a less rough on the lips creamy formula of jojoba, argan and macadamia oils packed with vitamins, fatty acids and antioxidants, as well as vegetables grains for effective peeling. I just massage it onto my lips in circular motions then rinse off with warm water. Get yours here.

LIP SCRUB INGREDIENTS
Water,Stearic Acid, C12-15 Alkyl Benzoate, Microcrystalline Wax, Cetyl Alcohol, Cellulose, Sorbitol, Juglans Regia (Walnut) Shell Powder, Glycerin, Macadamia Integrifolia Seed Oil, Simmondsia Chinensis (Jojoba) Seed Oil, Glyceryl Stearate, Dimethicone, PEG-100 Stearate, Triethanolamine, Methylparaben, Cellulose Gum, Phenoxyethanol, Magnesium Aluminum Silicate, Tocopheryl Acetate, Propylparaben, Fragrance(Parfum), Disodium EDTA, Argania Spinosa Kernel Oil.
STEP 5 - Face Sheet Mask (Missha, Nature Republic and Shingmulara shown)
[Further skin treatment]
There are so many face sheet masks on the market, sometimes it can be overwhelming. Coming back from Seoul, I had half of my large suitcase packed in with sheet masks. Each Korean skincare/beauty brand usually has their own sheet mask collection, and I made sure to stock up and gather a variety of masks from each brand. There are a diverse range of masks made with ingredients like pearl, shea butter and rose to lemongrass, flowers and teas, each targeting different skin issues. Here are a few of the masks that I'm currently using; if I want an especially refreshing experience, I'll place the sheet masks in the fridge before using them so that they are very cool to the touch (I like to do this particularly when I've spent quite some time in the sun or outside as it's very cooling for my skin). I simply remove and unfold the sheet mask from the packet and place it onto my face so that the eye, ear and mouth holes line up and I leave it on until the mask feels dry (10-15 minutes), meaning the serum has come off the mask and onto my skin. After I peel the sheet mask off of my face, I massage the leftover serum with my fingers in circular motions. Each mask packet also will have an excess of serum so I will usually save the packet after using the mask the evening before and apply the remaining serum in the morning. Shop MISSHA masks, Shingmulnara masks and Nature Republic masks.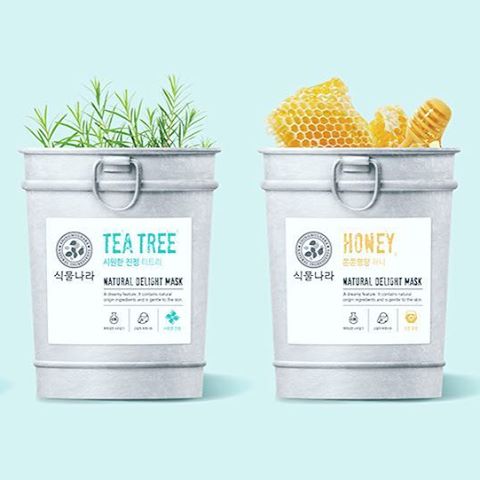 STEP 6 - Nature Republic Rose Ampoule
[Increase nourishment + elasticity]
I typically like to end my skincare routine with a soothing scented ampoule or moisturizer. Ampoules are a thicker, gel like substance that can be applied before moisturizer or using a sheet mask, but I like to use it to complete my nighttime skincare routine. This European damask rose water infused ampoule essence assists in firming, lifting and nourishing the skin; it smells absolutely heavenly and is easy to portion control with the dropper applicator. The ampoule range is also available in honey, argan and olive. Get yours here.
INGREDIENTS
Water, Butylene Glycol, Glycerin, Glycereth-26, Bifida Ferment Lysate, Linum Usitatissium (Linseed) Seed Extract, Rosa Damascene Flower Water, Theobroma Cacao (Cocoa) Extract, Pentylene Glycol, Panthenol, Peg-80, Hydrogenated Castor Oil, Arginine, 1,2-hexanediol, Polyquaternium-51, Biosaccharide Gum-1, Adenosine, Diphenyl Dimethicone, Triethylhexanoin, Sodium Hyaluronate, Rosa Canina Seed Extract, Rosa Canina Fruit Oil, Polyglyceryl-10 Oleate, Hydrogenated Lecithin, Xanthan Gum, Carbomer, Disodium Edta, Phenoxyethanol, Fragrance (Parfum)
Amanda of Feast.Fashion.Faves was not given monetary or product compensation to compose and publish this post. The post may contain affiliate links that can lead to commission sales. All opinions expressed are of her own.